Welcome to Clacton Airshow's information page!
The event..
2019 will once again see our award winning seafronts and west greensward be transformed over two days into a fun filled display/event site and flight viewing area. The event site will welcome in the region of 250,000 visitors wowing the crowds with Impressive aerobatic displays whilst a whole host of exhibition stands, food court and on-site entertainment are available at ground level.
To get the most from your day at the Clacton Airshow please take a look below at the FAQs below to make your visit as pleasurable as possible.
Our dedicated ground crew wearing orange t-shirts will be on site, selling programs and assisting with your enquiries who can be found throughout the show site for the duration of the event.
Whatever your question, they will be happy to help, just look out for their bright orange t-shirts!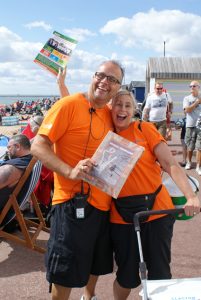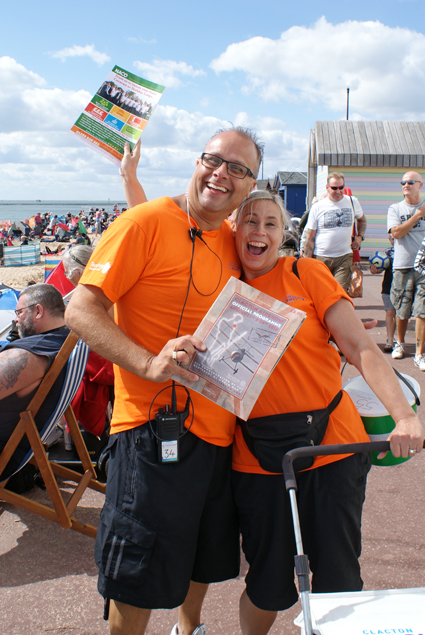 What are the dates for 2019?
Thursday 22nd & Friday 23rd August.

What time does the event open?
The official public opening times are 11am – 9pm Thursday & 11am – 5pm Friday.
Where is the event site located?
Located on the West Greensward, Marine Parade West, CO15 1NW which is a grass area.  The showground is large and very busy, please wear comfortable clothes and shoes as there is a lot of ground to cover. The site is very open and it can get hot, we advise you to bring plenty of water and leave pets at home.  Drinks and food can be purchased from our vendors on site. Bring wet weather protection if rain is forecast. Binoculars are useful for watching the flights!  To walk from the official show car park to the end of the site will take approximately 40mins.
What time does flying start on each day?
TBC.
What time are the Twilight Flights?
The Twilight flights start around 7.30pm and take place on Thursday 22nd only.
What time are the fireworks and where?
Yes, they will take place on Clacton Pier after the twilight flights on Thursday 22nd.
Are the displays suitable for young children?
The Airshow is a family event.  Some of the louder, faster jets can be very noisy!  If you have ear defenders it's advisable to bring them.  Some of our traders also sell them.
Getting Here…
By Car
From London and the M25, take the A12 signed Chelmsford and Colchester, pass the exits to Colchester West and Colchester Central, and then join the A120 signposted Harwich and Clacton.
From the Midlands and North, follow the A14 (signposted Felixstowe/Harwich) until you are south of Ipswich. Join the A12 signposted London, then take the A120 signposted Harwich. From the A120 join the A133 for Clacton, Frinton, Walton, St Osyth, Brightlingsea etc.
By Ferry
Harwich International Port is one of the UK's leading freight and passenger ports with
excellent links to the Midlands, London and the South East. The passenger ferry terminal is run by Stena Line.
Harwich International Port
Web: www.harwich.co.uk
Tel: 01255 242000
By Air
London Stansted airport is within easy reach by road (approximately 60 miles.)
Tel: 0870 000 0303
By Rail
Regular trains run to the Essex Sunshine Coast with daily direct services from both Clacton and Harwich International to London Liverpool Street. Average journey time from London is 1 hour 45 minutes.
Web: www.nationalrail.co.uk
Tel: 08457 484 950
By Bus
For local Bus Service contact Essex Traveline on:
Tel: 0871 200 2233
By Coach
National Express operates regular coach services to Clacton-on-Sea, Frinton-on-Sea, Harwich and Walton-on-the-Naze.
There are daily services with connections to London, the Midlands and the North West. For timetable information contact National Express on:
Tel: 08717 818781
Web: www.nationalexpress.com
On arrival..
Where's the best place to park?
We recommend visitors use either the park & ride service which is available from Clacton Factory Outlet and Holland Haven or the official event car park located at West Road, Clacton.
Is there disabled parking?
Yes, but it is very limited in the local car parks however, the official event car park offers parking and a accessible shuttle bus service to site.
Where can I find a coach drop off point?
The main drop off point is Martello Coach Park.   More information can be obtained from our Parking Services Team.
Are there any road closures I need to be aware of?
Yes, Marine Parade West (Tower Road to Wash Lane) and Pier Gap for the duration of the event.
Can I cycle?
Yes, you can to the site however, we advise you not to cycle along the seafront so ask you to dismount and walk with your bike along to the event site.  Click here for more information about cycling on our proms!
Other info..
Where can I get up to date information on the day?
Via our Twitter page @ClactonAirshow
Via our Facebook page @TheSunshineCoastOffcial
Via tuning into Radio Airshow 103 FM / 729 AM provided by BBC Essex 95.3 FM/ 103.5 FM
Is there any live streaming of the Airshow?
Yes, via our media partners BBC Essex and via some of the flight teams official pages.
Where can I find details of local Accommodation?
Contact Clacton Tourist Information Centre on: 01255 686633 or log on to Essex Sunshine Coast for further details.
How can I donate to the event?
Clacton Airshow is funded by the local Council and free to attend, if you would like to make a donation to help us to continue to put on this excellent local event in future years.  You can do so here: Click here to donate
Watching the air display from your boat?
A maritime safety zone is in place.  Please contact our seafronts manager for more details.  
Drones at the Airshow?
Unauthorised drones are banned at the event.  Unmanned Aircraft Systems (UAS) or Unmanned Aerial Vehicles (UAVs) are strictly not allowed to be flown at the event site.  Please be aware that unauthorised drone operators will be prosecuted and is against the law for any of these craft to be flown within the Restricted Airspace to protect participating aircraft and display teams.  Flying displays will be cancelled if unauthorised drones  are  flown during this time.
How do I get flight information?
The official show programme produced by our media partner Newsquest will be available from Clacton Tourist Information Centre just prior to the event and will also be available over the show days at various locations from Clacton Train Station to the event site on the main West Greensward.  The Ground crew will be wearing branded orange t-shirts!
Lost persons:
If you are lost or need to ask for assistance, look out for one of our team of volunteers who will be able to assist you with any questions about the show, see our lost child scheme and register on arrival in case of lost children, in these big crowds ts easy to loose them!  Lost persons points can be found at:
TDC Beach Patrol HQ, near Clacton Pier.
TDC Missing Persons Team, Police control unit on the West Greensward.
Alternatively consider choosing a meeting point should you become separated when entering the site.
A free wrist band scheme operates along the seafront with each section of the beach colour coded. Children are given a corresponding wrist band which makes the task of re-uniting lost children with their family a lot easier. Wrist bands can be obtained from the Beach Patrol Office.
First Aid Points:
TDC Beach Patrol HQ to the west of the Pier.
St John Medical Centre located central site adjacent to the sponsors area.

St John First Aid site located at the Martello Tower Picnic Area.
St John First Aid site located along Pier Gap.
Can I bring my own food and drink?
Yes, but please use the bins provided for rubbish! We work with the best catering providers to bring you a fantastic selection of food and beverage options available throughout the show site offering a splendid selection of gastronomic delights.
Will the beaches still be open?
Yes!
Can I still go in the sea?
Yes, although this is limited during the displays.  Please follow instructions from the beach patrol team who will be to hand for the duration of the event.
Where's the best place to view the flying?
The main area from Clacton Pier to Martello Beach is ideal however, there's a whole stretch of seafront with reasonable vantage points.
Where is the central flight line?
The flight line, or datum, is directly in front of the Hospitality marquee.  Tickets to this area can be obtained from Black Jacket Events.
Are there are cash points located on site?
The nearest cash machines are located at:
Toby Carvery
Clacton Pier
Main town Centre
Which are all a short walk!
Can I bring my dog/guide dogs to the Airshow?
Yes, but they must be on a lead and are not allowed on the beach except guide dogs. Please check the Tendring District Council website for more information regarding dog friendly beaches.