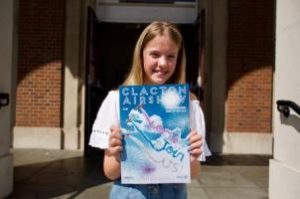 The creator of the front cover design for this year's Clacton Airshow has said she is "extremely happy" to have won.
Airshow organisers invited flight fans to come up with designs for the cover of the programme, and had some top entries.
The winning design was created by Evelyn Jordan, from Little Clacton, which shows three planes writing 'Come join us' in the sky.
Evelyn, aged 12, said she loved Clacton Airshow and was looking forward to being a VIP at this year's event.
"I go most years and have probably been eight or nine times," she said.
"My aunty told me about the competition, and art is my favourite subject at school so it just took some inspiration from watching the planes last year to come up with my design.
"I am surprised that I won though, and extremely happy – my friends and family are very proud of me too."
The competition was run in partnership with Newsquest Essex, publishers of the Clacton Gazette, who create the programme in conjunction with Clacton Airshow.
This year's Clacton Airshow takes place on 22-23 August.
Alex Porter, Cabinet Member for Leisure and Tourism at Tendring District Council, which runs Clacton Airshow, said he was impressed with the design.
"We had some really inspired entries in the competition, some of which will feature inside the Clacton Airshow 2019 programme, and Evelyn's really stood out," Cllr Porter said.
"A huge well done goes to Evelyn, who is clearly a big Airshow fan, and I hope she enjoys the VIP experience at this year's event.
"The programme is such an important part of the Clacton Airshow. Not only does it provide useful information about the event and fascinating details about the flights, but sales really help to keep the cost of the Airshow sustainable.
"For all of those reasons – and the fantastic front cover design too of course – I'd urge everyone coming to the Clacton Airshow to buy a programme from one of our vendors around the event site."
The final few flights can now also be revealed for this year's Airshow.
Team Raven will be bring their aerobatic display of five planes to wow the crowds on both days of the event, while the Ultimate Warbirds flight display of four historic fighter aircraft will replace the previously announced Wildcats, who have had to pull out due to unforeseen circumstances.
Meanwhile, Titan the Robot will return with displays on the ground to keep children and adults alike entertained.
For those looking to travel down to the show, the Rotary Club of Clacton-on-Sea will once again be running the main event car park in West Road, Clacton, while Hedingham is operating a park and ride service from Clacton Factory Outlet and Holland Haven, and Greater Anglia will have additional capacity on rail services across the two days.