Welcome to Clacton Airshow information page!
What are the dates for the 2023 event?
The dates are Thursday 24th & Friday 25th August. In addition to the day flying, Twilight flights will take place Thursday evening only.
The official show site opening time each day is 11am and closes 10pm Thursday and 5pm Friday.
Where is the event site located?
The main ground event site site is located on Marine Parade West (///: choppy.smiled.gazes) However, there is adequate viewing available along the seafront from the East side of Clacton Pier (///:forgiven.verdict.succumbs – towards Holland-on-Sea) to Clacton Martello Beach (///: starlight.repeated.protests) including our upper and lower promenades and West Greensward.
Download what3words to find, share and save precise location information!
Web: www.what3words.com
App: www.what3words.com/products/what3words-app/
Where can I get the full flight line up?
Although flights will be announced, the official show programmes will be available to buy from one of the mobile Ground Crew located in and around the main event site for the duration of the event.

By purchasing a programme you will help us to raise vital funds to keep this spectacular free event in our skies for years to come. All money collected from donations help to reduce the cost of running the Clacton Airshow. Bucket collection contributions keep the cost of running the event as low as possible and supports the future continuation of the event. The Clacton Airshow costs over £100,000 for the Council to stage each year, so without the kind donations from visitors it would be unlikely that the Council could continue to operate the event. Although other air shows on the East Coast have been cancelled over recent years, we have been able to continue and expand our event – which is in no small part down to donations from bucket collections and programme sales each year.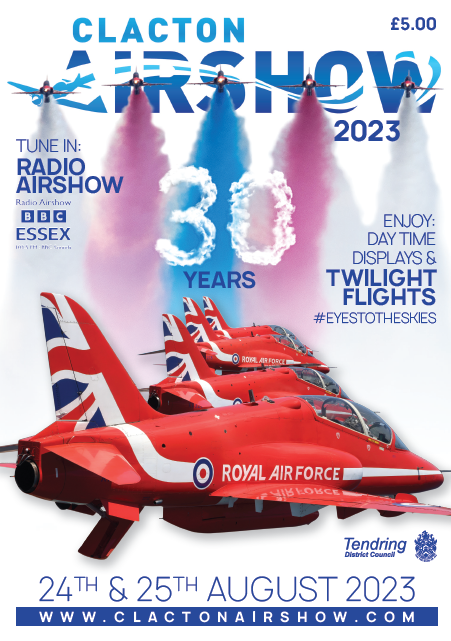 Programmes are priced £5 each and are available on pre-sale by visiting www.clactonairshow.ticketsolve.com/ticketbooth/products/regular
Programmes will also be available to purchase in person from at:
Clacton Leisure Centre, CO15 6DB.
Dovercourt Bay Lifestyles, CO12 3TA.
Walton-on-the-Naze Lifestyles, CO14 8PZ.
and Clacton Visitor Information Centre, C015 1SE.
Thursdays displays start at 1pm.
Key flights:
2pm RAF Battle of Britain Memorial Flight.
4.30pm RAF Red Arrows.
7.45pm Twilight displays.

Fridays displays start at 1pm.
Key flights:
1pm RAF Red Arrows.
2pm RAF Battle of Britain Memorial Flight.
(please note that displays and timings are subject to change).
Can I make a donation?
Yes, Thank you for your support! Your generosity by way of public donations and bucket collections enables us to help pay towards the event for all to enjoy. Donations can be made at https://clactonairshow.ticketsolve.com/ticketbooth/products/donation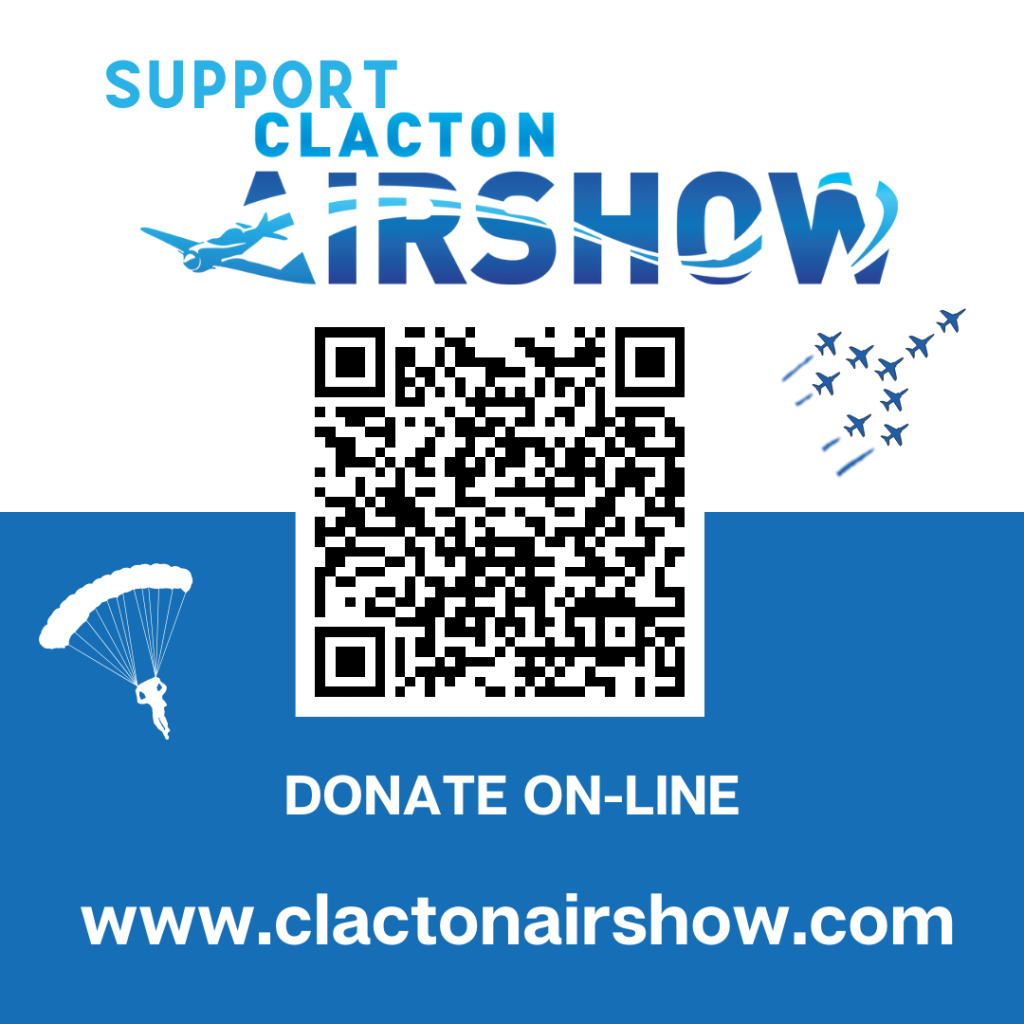 Where can I get up to date information now and on the day?
Via our Twitter page @ClactonAirshow
Via our Facebook page @TheSunshineCoastOffcial
Tune in live to Radio Airshow with BBC Essex 103.5 FM and BBC Sounds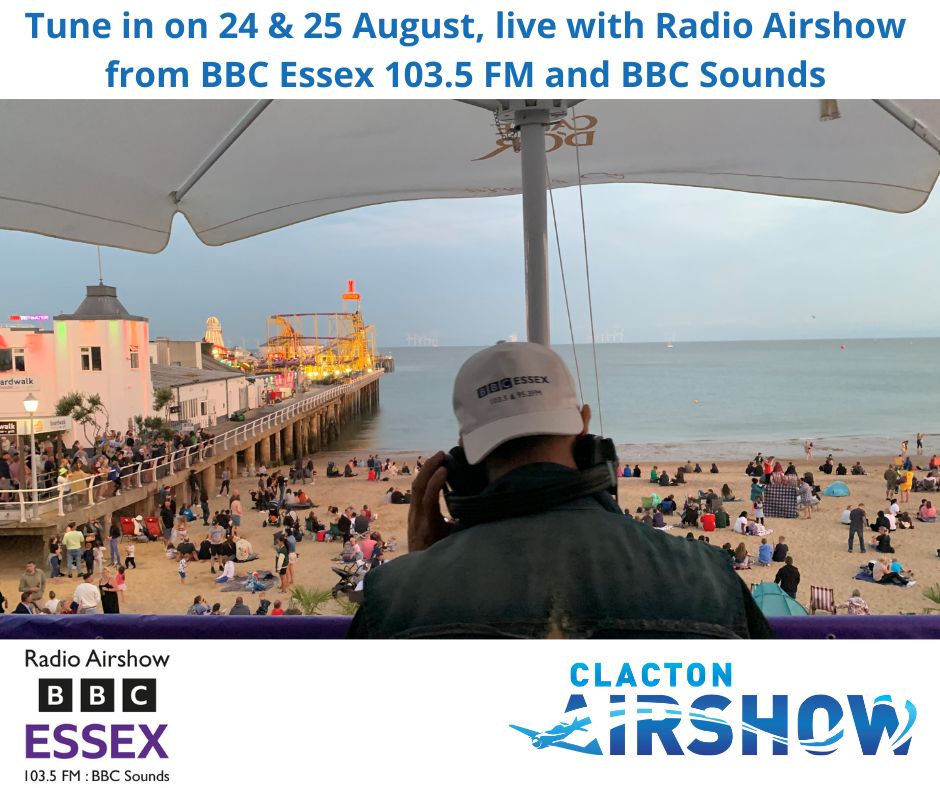 Download the Love Tendring app – where you can find information on nearby car parks, toilets and other facilities. It also tells you how busy beaches are based on hourly data from TDC's Beach Patrol (seasonal).
LoveTendring for Android
LoveTendring for Apple
Does it get busy?
Yes, extremely! The site is very open and it can get hot, we advise you to check the weather, bring plenty of water, put on sunscreen, wear comfortable clothing and footwear and bring wet weather protection in case it rains.
Are the displays suitable for young children?
This is a family event. The louder, faster jets can be very noisy! If you have ear defenders it's advisable to bring them.

Are there any fireworks?
Yes, they will follow after the twilight flights at Clacton Pier.
Getting Here…
By Car
From London and the M25, take the A12 signed Chelmsford and Colchester, pass the exits to Colchester West and Colchester Central, and then join the A120 signposted Harwich and Clacton. From the Midlands and North, follow the A14 (signposted Felixstowe/Harwich) until you are south of Ipswich. Join the A12 signposted London, then take the A120 signposted Harwich. From the A120 join the A133 for Clacton, Frinton, Walton, St Osyth, Brightlingsea etc.
By Ferry
Harwich International Port is one of the UK's leading freight and passenger ports with
excellent links to the Midlands, London and the South East. The passenger ferry terminal is run by Stena Line.
Harwich International Port
Web: www.harwich.co.uk
By Air
London Stansted airport is within easy reach by road (approximately 60 miles.)
By Rail
Regular trains run to the Essex Sunshine Coast with daily direct services from both Clacton and Harwich International to London Liverpool Street. Average journey time from London is 1 hour 45 minutes. Find out about offers available on the Essex Sunshine Coast line at Greater Anglia.
Web: www.nationalrail.co.uk
By Bus
For local Bus Service contact Essex Traveline
By Coach
National Express operates regular coach services to Clacton-on-Sea, Frinton-on-Sea, Harwich and Walton-on-the-Naze.
There are daily services with connections to London, the Midlands and the North West. For timetable information contact National Express on:
Web: www.nationalexpress.com
On arrival..
Where's the best place to park?
You can avoid the crowds and park your car at Clacton Shopping Village Car Park and hop on the bus with the Hedingham & Chambers Park & Ride service. Buses run up to every 10 minutes. Pricing and service information can be found at www.hedinghamandchambers.co.uk/airshow
Please check prices, opening & closing timings direct with the provider.
The main event car park located in West Road, CO15 1AG is provided by the Rotary Club of Clacton-on-Sea. The car park is around a 10 minute walk. An accessible shuttle service is provided to and from the main event site.
Thursday 24th – open from 08.00 and close 1hr after the last evening flight.
Friday 25th – open from 08.00 and officially close 2 hours after the last flight.
A pre-booking scheme will be available – follow the link to book! www.tickettailor.com/events/therotaryclubofclactonjubilee
Charges are £10 (pre-booking and cash on the day).
Please check prices, opening & closing timings direct with the provider.
Where are the local car parks?
A list of local Council run car parks can be viewed by clicking the following link local car parks. Please check for opening & closing times and for electric vehicle charge points.
Kindly note: The car parks adjacent to the main event site – seafront car parks and main Martello car park are unavailable for public parking for the duration of the event. Tendring District Council apologise for any inconvenience caused. Alternate parking is provided via the park & ride service or available at the event car park.
Is here disabled parking?
Yes, but these are limited and fill up very quickly in the local car parks and surrounding areas. The main event car park runs an accessible shuttle service to and from site and the park & ride service is accessible.
Where can I find a coach drop off point?
The main coach drop off point is Martello Coach Park. More information can be obtained from TDC's Parking Services.
Are there any road closures I need to be aware of?
Yes located at Marine Parade (from 6am Wednesday) and Pier Gap (from 6am Thursday) for the duration of the event until show close Friday. If you are a local resident of Marine Parade West, Collingwood Road, St Vincent Road, Nelson Road and Trafalgar Road and have been notified about residents passes contact the Visitor Information Centre, Clacton 01255 686633.
Can I cycle?
Yes, however you will need to dismount at either Clacton Pier or at Clacton Lifeboat Station (dependant on where you arrive) Click here for more information about cycling on our proms!
Other info..
Where can I find details of local Accommodation?
By calling Clacton Tourist Information Centre on: 01255 686633 or visit to Essex Sunshine Coast for further details. There is lots to see, do, explore and discover on visit. We hope you enjoy your stay!
Watching the flights from your boat?
A Maritime Safety Zone is in place and a Local Navigation Warning will be issued. Further information can be obtained from our Seafronts Team.
Drones at the event?
Unauthorised drones are not permitted at the event. Unmanned Aircraft Systems (UAS) or Unmanned Aerial Vehicles (UAVs) are strictly not allowed to be flown at the event site. Please be aware that unauthorised drone operators will be prosecuted and is against the law for any of these craft to be flown within the Restricted Airspace to protect participating aircraft and display teams. Flying displays will be cancelled if unauthorised drones are flown during this time.
Lost persons:
If you are lost or need to ask for assistance, look out for one of our ground crew or TDCs Beach Patrol team who will be able to assist you. Lost persons points can be found at any of the TDC Beach Patrol offices. A free wrist band scheme operates along the seafront with each section of the beach colour coded. Children are given a corresponding wrist band which makes the task of re-uniting lost children with their family a lot easier. Wrist bands can be obtained from the TDC Beach Patrol Office and stewards.
Beach Patrol & First Aid Points:
TDC Beach Patrol office located to the West of the Pier. (///: pays.conquest.postcard).
TDC Beach Patrol office located at Palace Beach. (///: ordeals.hunk.grit).
TDC Beach Patrol located at Martello Beach. (///: starlight.repeated.protests).
First Aid located at Seafront Car Park, Hastings Avenue (///icicles.youths.focus).
First Aid located at Pier Gap (///invoices.revisit.winded).
First Aid located at Main event site (opposite Event Information, central site) (///booster.tutorial.shadowed).
Download what3words to find, share and save precise location information!
Web: www.what3words.com
App: www.what3words.com/products/what3words-app/
Will the beaches still be open?
Yes! For information on our local beaches and beach safety visit www.tendringdc.gov.uk For local bye-law information visit www.tendringdc.gov.uk/leisure/seafront-and-beaches

The beach is a fantastic place to go, but it can be dangerous. If you're heading to the seaside, take a look at www.rnli.org for beach safety advice to help you and your family stay safe whilst visiting.
Can I bring my dog/guide dogs to the event?
Yes, but they must be on a lead and are not allowed on the beach except guide dogs. Please check the Tendring District Council website for more information regarding dog friendly beaches. Please be aware that it could be too scary, noisy and busy for our furry friends and they may prefer to stay at home.
Can I bring my own food and drink?
Yes, but please use the bins provided for rubbish! Please help us to be more environmentally friendly by cutting out single use plastics, use alternatives such as cans and wooden cutlery and please recycle where you can.
Various food and drink concessions will be available on site on site as well as an array of vendors in the local area selling an assortment of food and refreshments at reasonable prices. Local shops are located in and around the main Town Centre.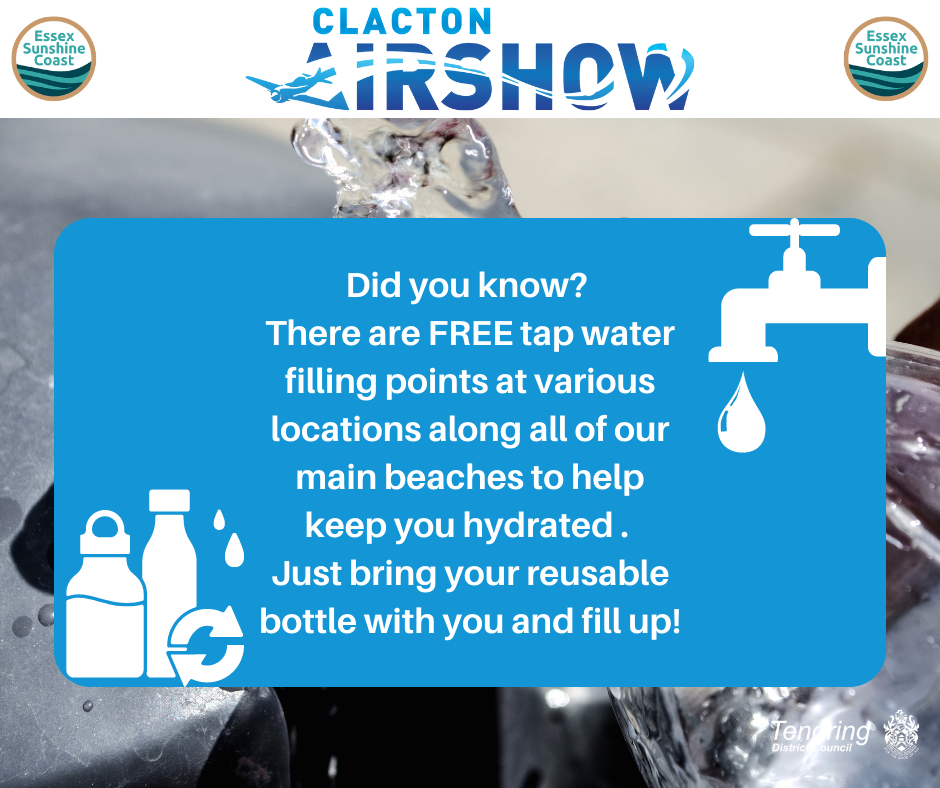 Are there are cash points located on site?
No however, the nearest cash machines are located at:
Clacton Pier
Main Town Centre
Which are all a short walk!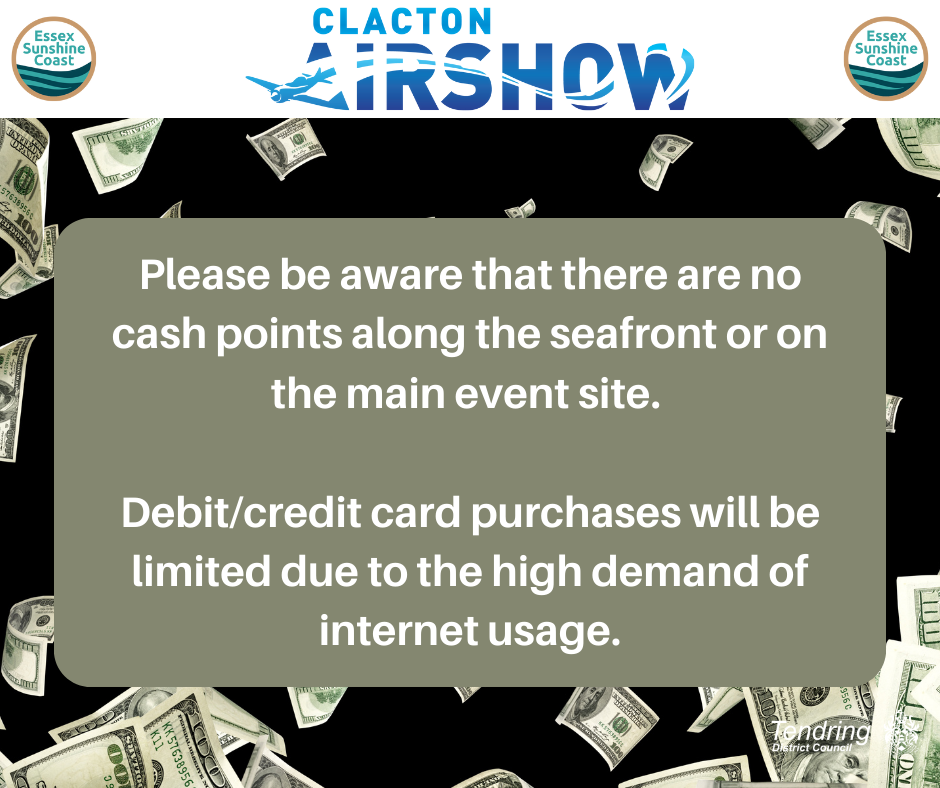 Accessibility
Please be advised that the main event site is located along the the top promenade (West Greensward, which is a grassland area) on Marine Parade West. Click the links shown below to find out more information on:
Seafronts & promenades
Toilets
Parking – please see above section on parking & Park and Ride services
Changing Places
Marks Mobility Centre – Wheelchair, Powerchair and Mobility Scooter Hire
Local Accommodation – please see above section on where to stay